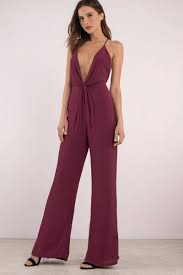 Jumpsuits are trendy outfits right for every woman who wants to jazz up her style quotient. Highly versatile, jumpsuits can be worn on multiple events, including formal and casual occasions. You'll find numerous styles of jumpsuits, and choosing the best one depends largely on the fit, your personal style, and the occasion. Dressy jumpsuits are ideal for weddings, special occasions, and are a trendy alternative to the commonly worn dresses or skirts. Here, we give top styling tips on rocking the jumpsuit like a true diva.
Attractive Colors
Jumpsuits come in so many colors and patterns, making it tough to choose the perfect one. Solid colored jumpsuits are great for formal occasions. Formal jumpsuits in black, navy, burgundy, and emerald make for elegant evening wear, and can be spruced up using perfectly coordinated jewelry and accessories. Stylish belts serve as a great accessory to spruce up a formal jumpsuit, providing a cinched waist, which gives the jumpsuit a flattering fit. For a trendy look, opt for formal jumpsuits that incorporate latest styles like an off-shoulder or cold-shoulder design. Chunky metal jewelry like a choker necklace or a pair of statement earrings can add a touch of glamour to formal jumpsuits, and amp up your look for the special evening.
For casual outings, you have a ton of exciting designs, prints, and shades of jumpsuits to choose from. Rompers or short-length jumpsuits are perfect for a day out at the beach or a summer outings with pals. Casual jumpsuits look great in sleeveless, sweetheart, or halter neck styles, making you look stylish and sexy. Opt for bold and vivid colors especially for spring and summer, tangerine, yellow, aqua, pink, red are popular colors that can make you look chic in your summer romper. Casual jumpsuits in feminine prints like polka dots, florals give you the perfectly pretty look.
Stylish Accessories
Jumpsuits can be styled right when paired with matching accessories. Adding a belt to your jumpsuit is a great way to glam it up, while giving the jumpsuit a flattering fit. A leather jacket can add oodles of style to a formal jumpsuit, taking it several notches higher. Denim or linen jackets are great to pair with rompers or casual jumpsuits. Formal jumpsuits must be worn with heels, while casual ones can be worn with footwear of your choice. Trendy handbags or totes and attractive jewelry will complete your jumpsuit look.
A dressy jumpsuit is the perfect outfit for any occasion, and can be enhanced using trendy accessories. Visit a women's clothing store to shop for your favorite jumpsuit styles.