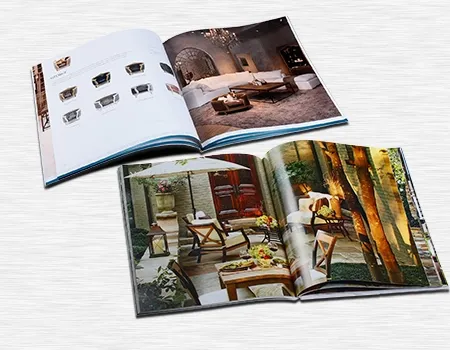 Whether you're creating a small catalog of products, an employee or training manual, or merely want to present information about your business in the simplest way possible, booklets are a professional, simple, cost-effective way to go.
No matter what kind of booklet printing you're having done, the booklet is often the first impression someone will get of your business, so it should look every bit as professional as the product or service you sell. And, while it offers more detail about your company than a business card does, you still want to use an economy of words – instead letting photos or other artwork tell your story as much as the words do.
But before hiring anyone to do inexpensive or cheap booklet printing, you should ask plenty of questions. And keep in mind, it's not just about the cost.
What to Ask of any Prospective Printer
Ask them how long they've been in business and what kinds of business, service or organization they've printed booklets for. Ask to see samples of their work and get references so you can call those companies directly to hear what they have to say about their experience with that printer.
What kinds of materials can they print on? Does how much use the booklets get factor into the type of material the booklets are printed on?
Ask whether they recommend saddle-stitch binding, spiral or coil binding, or some other method.
Is there a minimum order you must place? How many booklets you're having printed can often determine what print process is used – whether digital or litho. Get the price breakdown for each.
Do they recommend color, or could you get by with black and white? If the booklets are for informational purposes only and seen only by no one other than your employees, black and white can easily be used. But if you're presenting information to the public about your company and the services or products it offers, you'll probably want to invest the extra money for color printing.
Do they have a design team that can help you design the booklet, or are you responsible for presenting them with print-ready materials?
Can you see a proof prior to publishing?
Make sure they guarantee customer satisfaction and ask them how they handle any printing errors or displeasure on your part.
How much lead time do they need and how quickly can they turn an order around?
What if you need more booklets sometime down the road? Can you get more and what is the cost and turn-around time for extras?
Before Hiring Any Printer
You will likely be spending several hundred dollars all the way up to several thousand dollars or more on your printing project. So, make sure whatever printer you hire has a good reputation. Besides asking references about their experiences, read online reviews about any printer you're considering.
You can also contact your local Better Business Bureau or state consumer protection office to ensure there are no outstanding or unresolved complaints.
You should also never pay for a booklet printing project in full before the work is done and you're 100 percent satisfied.