The Parsi people migrated to India from Persia (now Iran) around the 8th century, fleeing their home country to avoid persecution from the Muslims.
Parsis, meaning 'Persians,' are followers of the Iranian prophet Zoroaster. When they first arrived in India, many of them settled in regions on India's west coast. Before long, they started to adopt Indian culture and traditions, and this is particularly evident in their food habits.
Parsi cuisine is incredibly unique – Indian influences paired with cooking techniques and traditions that originate from ancient Persia. Parsis are extremely passionate about their food – they use eggs extensively in their cooking and have mastered the art of creating the perfect sweet-acidic balance by adding sugar and vinegar to an array of dishes.
Sweet dishes are a firm favourite among Parsi people; in fact, desserts are considered a staple in almost all households.
A common dessert prepared for Parsi weddings is Lagun nu Custard, which literally translates as 'wedding custard.' This sweet is similar to a cremebrûlée, as it is made with eggs and milk, though it contains additional ingredients such as sultanas, pistachios, cashews and almonds. The use of spices such as nutmeg and cardamom enhances the flavour.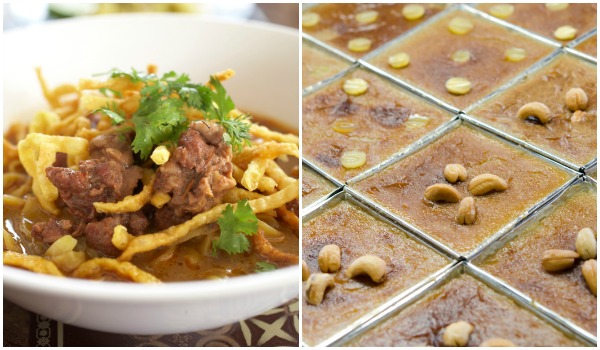 Though it is the staple dessert of Parsi weddings, Lagun nu Custard is also enjoyed at home and is regularly made as a Sunday treat for all the family to enjoy. It's easy to make and often prepared in big batches; some people like to enjoy it with Kulfi.
Parsis also enjoy a range of semolina-based puddings, such as Ravo (made with ghee, sugar, eggs, milk, vanilla essence, raisins and nuts) and Malido (a silky-smooth dessert served with a unique Parsi bread, called Papri). Parsi Sev is another popular sweet dish prepared in Parsi homes; it is made with vermicelli, ghee, almonds, sugar, nuts, black cardamom, raisins, nutmeg, vanilla essence and chironji (almond-flavoured seeds).
It can certainly be said that Parsis enjoy their custard-based puddings. However, they also enjoy chilled desserts such as Faluda. Though Faluda is essentially a liquid, it is considered to be a dessert as it is extremely filling due to the addition of vermicelli noodles and chewy basil seeds. Faluda is most enjoyed during the summer months; it has gained popularity across India, though the recipe was developed by the Parsi people. The sundae-like dessert is extremely flavoursome, owing to the rose syrup.
Kulfi, an Indian ice cream, is another favourite chilled dessert. Kulfi is much creamier and denser than the ice cream we're used to here, and this is because the dessert isn't whipped. Kulfi is available in many different flavours, from rose and mango to cardamom and pistachio. Due to its density, Kulfi takes a long time to melt, which is ideal if you're enjoying it under the intense Indian sun.
If you have a sweet tooth and want to give some authentic Indian desserts a try, pay a visit to one of London's fine Indian restaurants and take your pick from an array of mouth-watering puds.