The bathroom has almost never been treated with equal attention when it comes to décor like, let's say, the living room. When designing it, the most thought is given to the mere functionality, while the aesthetic element is slightly pushed aside. However, lately this underdog of interior design is getting its place under the spotlight, and we have to say, it sure looks fab. So, if you are up for treating your bathroom with a stylish update, we will share some tricks, trends and hints that will help you do so.
Mismatch your tiles
Continuity was one of the biggest bathroom trends in 2016 and it included using the same tiles on the walls and the floor to create a seamless transition and make the bathroom look bigger. This year is not about the size, but about the style, and you will achieve wonders in that sense if you use mismatched tiles. You can mix complementary colors or decide for a monochromatic scheme and then play around with different patterns, hex and subway tiles.
Unexpected artwork
Unlike the previous project which required extensive remodeling and investment, this one will treat your walls with personality on a shoestring budget. What do you know about bathroom wall art? It is usually based on fish, water and aquarium themes, but if you truly want to make your bathroom stand out, you won't go with the usual. Instead, you will hang bold modern prints, photos, retro wall art, or whatever you find interesting enough.
Make statement with a furniture piece
It's going a couple of years back – bathrooms are being equipped with seating areas. If you have a spacious bathroom or at least a free corner, consider putting a chair or an ottoman. Go with luxurious upholstery like velvet to really draw the eye towards the area. Additionally, you can zone that space with a sheepskin or a faux fur area rug and introduce a large houseplant.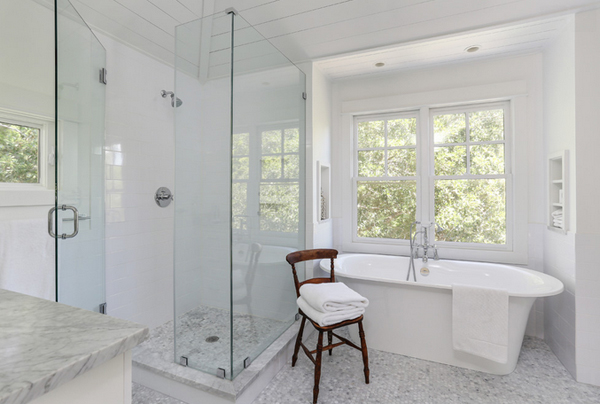 Simplicity meets boldness
We have already mentioned that bold tiles and quirky artwork are all the rage when it comes to bathroom décor, but if you want them to look well you have to balance them with some minimalism. Fortunately, the offer of minimalistic bathroom vanities is quite extensive, and you will have no problem finding clean-lined cabinets with simple handles and knobs that will ensure the space is harmonious enough.
Battle of the shapes
Aren't you tired of the same old rectangular mirror + rectangular vanity combination? Why wouldn't you bring in some dynamics into the space by joining a rectangular vanity/sink and a round mirror, which, on its own, makes an instant style statement? Unlike rectangular, round shape gives visual variety and a striking focal point.
Extra lux with dedicated vanity
Bathroom seating area already brings in an extra cool factor to this space, but if you want to play on that card a little bit more, you can design a special place for your morning makeup routine. All you need to achieve that is some free space, a stool and a mini table where you will display trays full of showoff makeup, pretty creams and polishes.
Bye, bye, bath mat! Welcome throw rug!
It doesn't matter how much you pay them, bathroom rugs always seem a bit cheap and they are not something you would put in any other room. Nowadays when bathrooms are finally getting the same treatment as the rest of the house, it is time to finally get rid of the unappealing bath mats. Throw rugs, such as the ones you would usually find in the kitchen or bedroom, can serve as a great alternative. To truly make a statement, choose an uncommon design, such as oriental or interesting textures such as jute or sheepskin.
By following these few simple ideas you will transform your bathroom from a dull all-white space into an oasis of style, comfort and, why not, self-indulgence. You surely deserve it, and your bathroom does too.