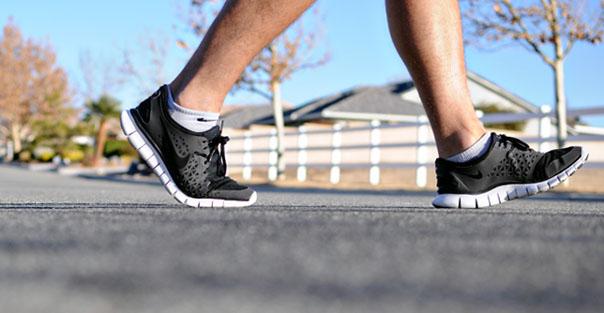 Physical activity is one of the keys in having a healthy heart. Whether a person is young or old, exercising regularly, along with eating a nutritionally balanced diet, is the best way to protect against heart disease.
Studies show that just 40 minutes of moderate intensity aerobic exercise three to four times per week can reduce cholesterol and blood pressure levels and significantly reduce a person's risk for stroke and heart attack. It is critical to avoid a sedentary lifestyle.
Anything that burns calories and moves your body can be classified as exercise. Aerobic exercises are best for heart health, while strength training and stretching are beneficial as well.
The best aerobic exercise is the one that you enjoy and can stick with over the long haul. Performing vigorous, strenuous aerobic exercise is not mandatory. If you are currently overweight or have been sedentary, start out with simple walks around the block.
Walking is a fantastic exercise for the heart and, as you get in better cardiovascular condition, you can increase the distance of your walks or increase the speed at which you walk. As your aerobic capacity continues to improve, you can gradually transition from walking to jogging. Walking on a treadmill or walking outdoor are equally effective, just make sure to wear well-made, quality shoes that effectively support your body weight.
Jogging is a great, heart-healthy exercise for people who are in good shape, and it is also fantastic for weight loss. People who are new to jogging or are just getting back into jogging after a long layoff should start out by walking briskly and jogging for one minute for every five-minute interval of walking. The ratio of jogging to walking can be gradually increased until there is no need to walk at all between jogging sessions.
Swimming is another fantastic exercise for heart health, and its particularly suited for people with joint pain, as it is incredibly low-impact according to Cleveland Clinic. In addition to raising rate and boosting aerobic fitness, swimming laps can increase muscle strength, as the water provides resistance for your arms and legs.
If walking or swimming don't interest you, consider hopping on a bike. Cycling is low-impact and joint-friendly and it strengthens and tones leg muscle while really getting the heart pumping. Riding an indoor stationary bicycle is fine, but outdoor cycling is a great way to get some fresh air. You can ride bike paths in your area, or simply use your bike to cycle to work or run errands. Another thing is:
Cycling is associated with improved cardiovascular fitness, as well as a decrease in the risk of coronary heart disease (Discovery News).
Skating is another lower-impact aerobic exercise. Both ice-skating and roller skating are great for boosting heart health. Start out slow, and gradually increase the intensity of your skate sessions to get your heart in perfect condition.
If these options don't interest you, consider taking an aerobics class. A group class allows you to train with others and make new friends. The camaraderie offered by group training can help lift your spirits when you are feeling down or don't particularly want to exercise.
To get in the best shape possible, perform two strength training workouts per week in addition to your aerobic workouts, and end the workout with light stretching to maintain your flexibility.
By performing the best exercises for a healthy heart you can dramatically reduce your risk of heart disease and stay in tip-top shape. Start out slow, and talk with your doctor before starting a new exercise program if you have any health concerns.
Related article: Various Ways of Controlling Blood Pressure Through Forskolin
References:
1. Heart & Vascular Team of Cleveland Clinic (8/20/13/) Swimming: Joint-friendly and Good for the Heart. Retrieved on December 23, 2014 from http://health.clevelandclinic.org/2013/08/swimming-joint-friendly-and-good-for-the-heart/
2. Markham, D. of Discovery News (October 3, 2011) The Top 7 Health Benefits of Cycling. Retrieved on December 23, 2014 from http://news.discovery.com/adventure/the-top-7-health-benefits-of-cycling.htm
Disclaimer: All of the information stated here should not be used as a replacement for a professional medical advice. Consult your physician if you have questions about your health.