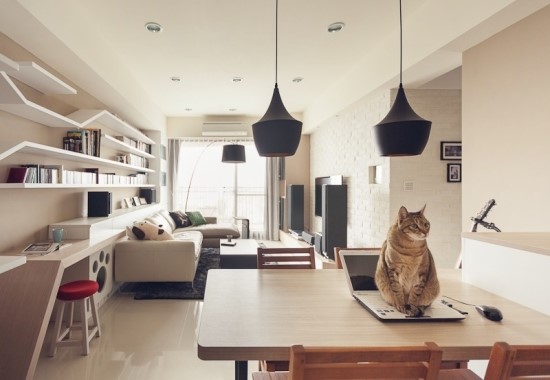 For homeowners with pets, it can often feel like you're being permitted to live in a space that actually belongs to your furry friends. Homeowners put up with a lot to accommodate their pets but they should still feel free to decorate the space as they see fit. The following interior design tips will help you find that balance between a space that's comfortable for you and your pets.
Don't rule out wood flooring
The age-old rule for owning pets has always been no wood flooring since little paws will make a million little scratches over time. But you don't have to sacrifice wood flooring if that's something that's important to you. You simply have to go with a harder wood that's naturally more scratch resistant. Oak is one of the hardest wood flooring products you can buy and because it has more grain that your typical wood flooring product, it does a better job of hiding any scratches that do accumulate. If you don't like the look of oak flooring then you might consider hydrocork. If you don't care about wood flooring then any durable hard floor option like vinyl or tile will work. Carpet traps odors and is harder to maintain with pets about but if you're up to the challenge that's an option as well. There are odor resistant, short pile carpets available that tend to hold up better with pets.
Hide the pet accommodations
Are food and water dishes and litter boxes cramping your style? Of course pets need to eat and drink and do their business but many homeowners prefer these accommodations be out of sight. Consider placing food and water dishes in a bottom drawer that's close to the floor. You can place something under them to raise them high enough so they're comfortable for your pets to reach. When it's time to eat, simply open up the drawer and when they're done, close it again. There are also stylish litter boxes that are disguised within ordinary looking furniture like end tables.
Durable fabrics
Softer fabrics like microfiber are less likely to be clawed through by pets. Leather, though more expensive will endure a lot more abuse than faux leather and minor scratches and wear and tear will actually make it look better. There are also ultra-durable fabrics like crypton that are stain-, water-, and odor-resistant.
Customized dog/cat doors
Off-the-shelf dog/cat doors tend to look like an afterthought and they disrupt any interior design scheme you have going on. Instead of making your home's design take a back seat to your pets' needs, consider modifying or somehow customizing your dog/cat door so that it looks integrated with your interior design.
Baseboard heater covers
Baseboard heaters offer a number of advantages over central heating but their proximity to the ground isn't one of them if you have pets about. Baseboard heaters need good airflow to work properly and pet hair can clog them up faster than the eventual build-up of dust. Also the heating elements could pose a risk to curious pets. A good solution is a nice baseboard heater cover which not only protects your pets but make it easier to keep clean. Just make sure to run your vacuum attachment across the baseboard heater covers every time you're vacuuming the room.
Interior Decorating and Remodeling News Brought to You by ezsnapbaseboardheatercovers.com
Source: edmontonjournal.com/life/homes/pet-friendly-design-tips-prevent-home-decor-from-going-to-the-dogs