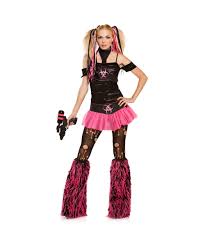 Rave clothing is dynamic, and it evolved right alongside the unique, eclectic rave scene. Known for bright colors, larger-than-life spectacles, and attention-grabbing details, elements of the original style still inspire raver outfits today. Read on to learn a brief history of rave fashion and find out where to find rave clothing for your next big night out.
Raves gained a footing in England in the 1980s, powered by the DJs that helped spawn electronic music - the rave's very pulse. As ecstasy gained popularity as a party drug, ravers began sporting showy outfits particularly fascinating to those on drugs. Cultures and fandoms from hippie and Rastafarian to goth and arthouse blended to create a new style that took nightlife by storm.
People used to go to night clubs dressed up, to hang out by the bar. But with dancing and the frenetic energy animating the rave scene, the objective was to feel the beat, let the psychedelics take hold, and tantalize the senses from every angle. The unacceptable became acceptable and rave fashion was soon as unforgettable as the music itself.
When raves hit the US in the 90s, rave apparel developed even further, driven by hip-hop, jock, and surfer influences. By the end of the 2000s, the movement had survived government pressure and assimilated pop culture, video games, and more, morphing from the dance party craze of the freaks and geeks to a worldwide phenomenon.
Today's rave clothing is still focused on being noticed. But now, it's sexier than ever and bent on celebrating doing what you can't do and being who you can't be anywhere else. So whether you're planning on attending a convention, concert, Burning Man, or a theme party, now is the time to start planning your next outfit.
But where does one find rave clothes? Look to another massive 80s innovation - the internet! You can find affordable online suppliers of quality rave clothing, lingerie, dresses, costumes, and even accessories. Whether your look demands holographic nipple pasties, a gun holster, or short-short overalls, you can find it online and have it shipped to your doorstep. No need to brave crowds, lines, and retail hell - you can do it all online. So if you're ready to hit the rave scene and you need a great look fast, look no further than the internet for all your rave clothing needs.