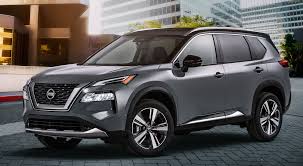 The end of 2020 is here and that means a fantastic SUV is rolling into dealership lots across the country. Nissan dealerships are proud to be introducing the new 2021 Nissan Pathfinder! Is your family ready for an upgrade? It is time you learn more about this roomy, capable full-size SUV.
With the brand new 2021 Pathfinder, the designs and proportions of the car seem quite similar to the current 2020 Pathfinder. However, the improved front hang makes it look more strong and superior to its competitors. The transmission system inside the car can also be upgraded to a 9-speed automatic, thereby providing improved ride and handling dynamics. You won't feel like you're driving such a large vehicle, but you'll certainly remember that you are when you're able to fit your entire family and all of your stuff inside!
The 2021 Nissan Pathfinder will carry a similar 3.5-liter V6 engine that belts out 284 horsepower. There is also an available 2.0-liter four-cylinder turbocharged Inline-4 unit for the top-of-the-line trim if you want some serious power in your SUV. Perhaps you plan on using your Pathfinder to tow a boat to the lake for the weekend or pull your work trailer. It is more than capable of doing either of these, and more. This high-class SUV will come standard with an all-wheel-drive setup from now on with shift-on-the-fly terrain modes. With a naturally aspirated V6 and an upgraded transmission system, the vehicle is certainly going to push the limits.
All of this power may make you worried about your gas mileage. You don't want to stop your journeys too often to pull off to a gas station! The 2021 Nissan Pathfinder is expected to deliver some above-average MPG figures for its segment, with 20 MPG in the city and over 27 MPG out on the highway. Those are exciting numbers to see for a vehicle so large and capable.
The cabin of the 2021 Nissan Pathfinder delivers a crisp, clean, and attractive design featuring a soft dashboard and controls that can easily be accessed by the driver and the front passenger. The seats are equipped with sumptuous leather giving plenty of support and a spacious setting. It is the perfect vehicle to take on long weekend getaways.
The new Nissan Pathfinder combines technology and performance for a more confident ride. Something this great must be really expensive, right? Not at all! The price is also something to be excited about! The brand new Nissan Pathfinder can be had for around $33,500. That puts this large and in charge SUV well within the price range of most families.
Distinctive design, performance, comfort, and a spacious overhauled cabin are all features you can expect for the Pathfinder. Simply put, it is unlike any other. Are you ready to see the brand new Nissan Pathfinder in person? Do not delay! Visit your nearest Nissan dealership soon and be one of the first people on the Connecticut roads to have the brand new 2021 model!