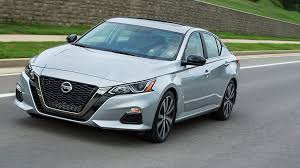 You need a new car. Well...not really a brand new car. You need a new-to-you car. It's time to start shopping for used cars. Where do you even begin? There are so many options!
The right car for you is a personal decision. Yet, most people would agree that if a vehicle is one of the most popular on the roads, it's probably a pretty good car. All of those other people cannot be wrong. This line of thinking is exactly why you should visit a used car dealership and look into a previous model year Nissan Altima. Year after year, over 200,000 Nissan Altima cars are sold in the U.S. That is a pretty staggering number! One can only assume this happens consistently each and every year because it is a great vehicle. If you surmised this, you would be right. You would also be right in guessing that because so many of these cars are sold every year, there are a lot of used Nissan Altimas to be found.
There is a lot to love about a used Nissan Altima! The Nissan Altima has long been a good alternative to others in the industry like the Honda Accord and even the Toyota Camry. It is available with a V6, and also as a coupe, so used Nissan Altimas can be frugal or fast, fancy or frill-free. There are many different versions and trims of Nissan Altimas, and these different versions eventually become used cars for you to choose from. Like all used cars, the Altima is significantly less expensive than purchasing a brand new model. This is something nearly everyone can benefit from!
According to available data, the used Nissan Altima is generally a very reliable pre-owned car. This data also tells us that there are model years of used Altimas that have very low rates of complaints. Try to find Nissan Altimas made in 2011 and 2012, as these seem to be the best. A good condition used Altima from those years runs about $10K to $12K, according to online resources. Other years to consider might be the 2007 and 2004 models if you are looking for a well-worn car at a very affordable price. This makes for a great vehicle for a teenager just learning to drive who you worry may ding the vehicle by bumping it into parking stops and telephone poles. It's also a great option for someone with a small budget who doesn't want a car payment but needs to consistently get to work and other daily responsibilities.
The Altima has much going for it. Good looks, excellent fuel economy in the 4-cylinder models, and the option of a coupe body style are just some of what makes it a standout in the used car marketplace. If you go with a used Nissan Altima, you are already choosing wisely. If you can find and pick a year with low rates of complaints, you're doing even better!